INNOVATIVE PRODUCTS
IN AGRICULTURE
---
Our MICROSAP® fertilizers take their name from the biotechnology that is the basis of our formulations which represent in the agricultural sector a cutting-edge innovation in the field of plant nutrition, for the uniqueness of the formulations based on natural extracts, and innovative solutions of microelements.

MICROSAP® is a biocompatible carrier capable of forming a coating (film) on the leaf surface capable of making the active ingredients available longer over time.

The MICROSAP®, thanks to the morphological irregularity and the considerable external electrostatic charge, is able to bind to the leaf surface. For this reason our MICROSAP® fertilizers do not require adhesives or tackifiers. Tests carried out in the field and microscope analysis demonstrate the presence of MICROSAP® on the leaf even days after application, unlike the classic technical means, which in the absence of adhesives and adjuvants are easily washed away with a simple rain.
---
MICROSAP® AKT is a cutting-edge product that guarantees the healthy and balanced development of plants, activating resistance to biotic stress. Microsap® AKT associated with common insecticides used in agriculture increases its effectiveness.
MICROSAP® MICROCEREAL is a product based on Copper and Zinc activated with humic substances rich in carbon which are absorbed by the young foliar organs, helping to overcome stress of various kinds. Microsap ® Microcereal invigorates damaged tissues and enriches the plant with nutrients.
Il coadiuvante liquido Calantioss permette di migliorare l'efficacia delle sostanze che costituiscono i formulati della linea Microsap® BIO. Calantioss è progettato per veicolare alla pianta i principi attivi dei formulati migliorandone l'assorbimento, grazie a un carrier (Microsap®) brevettato biocompatibile.
---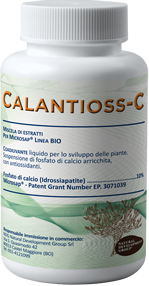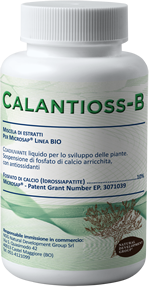 ---
Calantioss, non ha caratteristiche né di un fertilizzante né di un fitosanitario.
La composizione specificata e la qualità dei prodotti impiegati garantiscono sufficienti informazioni ai consumatori a norma dell'articolo 76 del Decreto Legislativo del 6 settembre 2005 numero 206 (G.U. n. 235 del 8/10/2005) e successive modifiche ed integrazioni.